When I said "it's almost like it was designed by a railfan", that may or may not literally be the case, but the downtown street grid was planned around a "railroad reservation", as Birmingham was laid out in the 1870s at the height of railroad importance.
As the "Birmingham Wiki" says:
The Railroad Reservation is a plot of land, 1000 feet wide by 4,780 feet long in the center of Birmingham's street grid, set aside in William Barker's original plat of the city for use by the railroads and related industries.

The tracks within the railroad reservation remain active today, giving people in Birmingham a rare opportunity to engage in trainspotting or benching in the midst of the downtown core.
This "bird's eye view" drawing from 1885 shows the area around Sloss Furnace. Just look at those happy little trains. The railroad lines are recognizable. The train nearest the top of the picture is on what would now be the CSX, the middle train is on the NS, and the bottom train is on a segment of track that no longer exists but is continuous with the extant Alabama and Tennessee River. Most of the land is still empty, but the street grid is already laid out.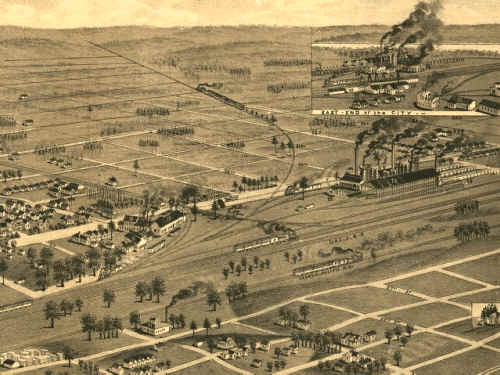 That image is from Birmingham Rails, which has a lot of interesting maps and other images if you follow the links.
What follows is a smattering of pictures taken at various places around the city.
NS SD40-2 on the north side of town with an obviously ex-BN green one with spraypainted change of ownership:
The tail end of a CSX train passing over Graces Gap, which is where northbound trains cross over Red Mountain into Birmingham proper. This train has already passed the CSX control point called "Grace's", which is slightly south.
Caught the lead ES44AC of another train from the same overpass:
I managed to beat that train downtown, and catch it again from the parking lot of Carrigan's Public House.
A different CSX train, this one showing the contrast between the "Bright Future" and "Dark Future" (fan nickname) paint schemes:
UP power on NS, taken down under the Richard Arrington Blvd bridge.